Article No: 8369-07
Multifunctional survival tool. The tool includes: whistle, compass, thermometer (°F), a light, mirror, magnifying glass and cord with safety closure.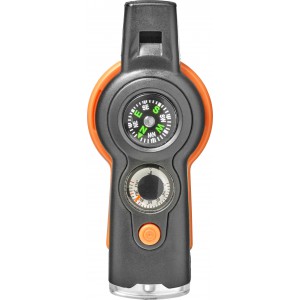 Article No: 10020600
Direx compass. Handy compass for tracking directions. Plastic. Article No: 10010700
Destiny compass carabiner. Compass with carabiner hook. Metal. Article No: 13401500
Alverstone multi-function compass. Find your way in style with this compass that includes a whistle and a thermometer. The compass can be used in the night thanks to its glow-in-the-dark markers and when placed on a map the clear window makes it easy to align the compass with the map?s north. The exclusively designed double carabiner provides easy attachment. Feature card in EN/FR/DE/IT/ES/NL is added for your convenience. Packed in an Elevate gift box. Exclusive design. Plastic. The indicated prices and product information are informative and we don't take any responsibility. Prices do not include VAT.